Welcome to A. Jackson and Son, a quality floor sanding, refinishing and restoration service for North London and the Surrounding Area.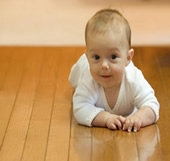 A Jackson & Son specialise in the restoration, sanding and refinishing of wooden floors, staircases and doors. A father and son team started the business thirty years ago and have been providing a top quality service to London and the surrounding area ever since. We employ experienced tradesmen, use modern technology and only the finest oils, stains and varnishes from established names such as Osmo, Morrells, Junckers to create the perfect finish.
A professionally finished wooden floor or staircase will enhance your property, it's warm and is cleaner than most other floor coverings, it can also add value to your home. There is nothing more impressive than a beautiful real wood staircase in your entrance hall.
We install, restore and repair all types of wooden flooring, including hardwood, oak, pine and parquet. We also remove existing hearths and restore the newly exposed floor to match the surroundings. Other services within our portfolio include the installation and restoration of garden decking.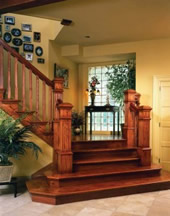 Testimonials are available from a number of satisfied customers, many of them repeat customers. Our work has been featured in the Daily Mail on 17th April 2005. Please see the "UK Press" page to view a copy of the article. We also feature in the book - Thankyou for having me - by Maureen Lipman.
No job is too small or too large. We have refinished floors from the smallest lounge through to the largest industrial unit. We have re-finished wooden floors in prestige offices, hotels, health clubs, warehouses and gyms. We have also travelled to France to work in some fine chateaux. Small job or large job, our commitment to quality and detail remains the same. Previous customers include Windsor Castle, the House of Parliament and number of foreign embassies.
We also special in the restoration, sanding and varnishing of real wood doors, both interior and exterior. We can restore your doors to their original condition.
We will provide a clear explanation of the work required and an easy to understand quote. For businesses who do not want any downtime, we are happy to work outside of normal hours so your business does not suffer any disruption. Please give us a call to discuss your requirements or use the contact page and we'll give you a call back.
When you select A. Jackson and Son for you wooded floor refinishing, you can be confident of a first class result.
A. Jackson & Son combines modern materials with traditional craftsmanship to create beautiful floors, beautifully crafted. A quality wood floor refinishing service.
We only use top quality varnishes and oils from market leading suppliers: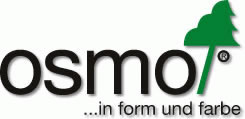 We supply servies to all the london postcodes and surrounding areas: